Exhibition Stall Design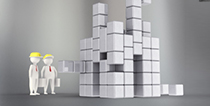 At Bliss Designs, our goal is to set your company apart from the rest. Bliss Designs was formed in 2010, to specifically provide service for exhibition stall design and execution and Events that matches with our clients' brand vision.

We have served brands across a wide gamut of industries including but not limited to Property, Pharma and Chemicals, Automation and Machinery, Power and Energy, Jewellery and Gemstones, and FMCG.

At Bliss Designs we believe in our clients' brands and the way they are represented. This is why we have invested heavily in constantly improving the level of service we provide.
We employ dedicated staff for each aspect of your project development from research and development, to design, production and servicing.

Our in‐house design team, takes care to ensure your project is designed to maximize quality visitors and create strong brand recall.

Our network of partners and vendors extends All over India to providing you with quality service, no matter what the job, or location. We have happily executed projects on PAN India basis.

We can also provide graphic design, brochure design require to make your exhibition a success.